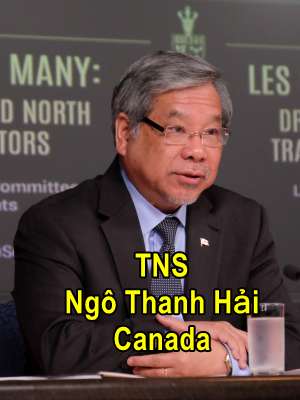 [For immediate release]- June 30, 2021
On June 29, 2021, Senator Thanh Hai Ngo spoke to his motion in the Senate, Motion to Reconvene the International Conference on Viet-Nam.
This Motion urges the Government of Canada to call upon six or more of the current parties to the 1973 Act of the International Conference on Viet-Nam (the Act) to agree to reconvene the International Conference on Viet-Nam, pursuant to Article 7(b) of the Act.
On March 2, 1973 a conference was concluded by the signing of the Act, wherein, the parties to the Agreement on Ending the War and Restoring Peace in Viet-Nam (the Paris Peace Accords) and eight other countries – Canada, France, Hungary, Indonesia, Poland, UK, the Soviet Union, and China – pledged they would, henceforth, not only uphold and support its terms but also abide by its provisions, including those related to foreign interference. Both the Act and the Paris Peace Accords were registered with the UN Secretariat on May 13, 1974.
In absolute violation of the 1973 Paris Peace Accords and of the Act, North Vietnam's Communist forces invaded South Vietnam on April 30, 1975. Moreover, in 1974 and 1988, China invaded Vietnam's Paracel Islands and Spratly Islands, respectively. These invasions are violations of the Act, allowing any signatory country to reconvene the International Conference as per the conditions set out in Article 7(b) of the Act.
There are compelling grounds that indicate the Act remains in force. The Act continues to be considered in force by the U.S. Department of State as of January 1, 2020, with Canada still listed as one of the parties. It also specifically provides a mechanism for the International Conference to be reconvened without the U.S and Vietnam jointly requesting it; therefore, the Act continues to be binding on the other eight signatory countries.
I believe the Act remains a valuable mechanism for the resolution of disputes between signatory parties that arise from violations of their terms – particularly, to protect the "[…] fundamental national rights of the Vietnamese people, i.e., the independence, sovereignty, unity, and territorial integrity of Viet-Nam and the right of the South Vietnamese people to self-determination" (articles 4 and 5 of the Act) and to the peaceful and diplomatic resolution of the South China Sea dispute, in general. Canada has always championed freedom, democracy, human rights and the rule of law – values on which our great country was founded and that are core to our security and prosperity. As a signatory to the Act and a nation that has been at the forefront of peacekeeping efforts in Vietnam and around the world, Canada therefore, has a moral obligation and vested interest in continuing to preserve and promote the international rules-based order by spearheading this important initiative.
For more information, please contact:
Office of the Honourable Thanh Hai Ngo
613-943-1599
ThanhHai.Ngo@sen.parl.gc.ca
www.senatorngo.ca
@SenatorNgo
Additional information:
Senator Ngo Speech on his Motion to Reconvene the International Conference on Viet-Nam
U.S. Department of State – Treaties in Force: A List of Treaties and Other International Agreements of the United States in Force on January 1, 2020
Government of Canada – Operation GALLANT
o-O-o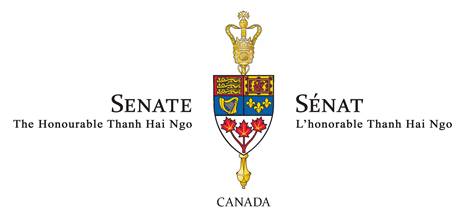 Le sénateur Ngo propose une motion visant à convoquer de nouveau la Conférence internationale sur le Vietnam
[Pour diffusion immédiate] – Le 30 juin 2021
Le 29 juin 2021, le sénateur Thanh Hai Ngo a pris la parole au Sénat au sujet de sa motion visant à convoquer de nouveau la Conférence internationale sur le Vietnam.
La motion exhorte le gouvernement du Canada à convoquer six ou plus des parties actuelles à l'Acte de la Conférence internationale sur le Viet-Nam de 1973 (l'Acte) pour qu'elles conviennent de convoquer de nouveau la Conférence internationale sur le Vietnam, conformément à l'article 7(b) de l'Acte.
Le 2 mars 1973, une conférence s'est terminée par la signature de l'Acte, aux termes duquel les parties à l'Accord sur la cessation de la guerre et le rétablissement de la paix au Viet-Nam (les Accords de paix de Paris) et huit autres pays (le Canada, la France, la Hongrie, la Pologne, le Royaume-Uni, l'Union soviétique et la Chine) ont promis qu'elles allaient non seulement défendre et soutenir ses modalités, mais également respecter ses dispositions, y compris celles liées à l'ingérence étrangère. L'Acte et les Accords de paix de Paris ont été enregistrés auprès du Secrétariat de l'ONU le 13 mai 1974.
En violation flagrante des Accords de paix de Paris et de l'Acte de 1973, les forces communistes du Vietnam du Nord ont envahi le Vietnam du Sud le 30 avril 1975. De plus, en 1974 et en 1988, la Chine a envahi les îles vietnamiennes Paracel et Spratly. Ces invasions constituent des violations de l'Acte, ce qui autorise tout pays signataire à convoquer de nouveau la Conférence internationale, conformément aux conditions énoncées à l'article 7(b) de l'Acte.
Il y a des motifs impérieux qui indiquent que l'Acte demeure en vigueur. L'Acte est toujours considéré comme en vigueur par le Département d'État des États-Unis, et ce, en date du 1er janvier 2020 et le Canada figure toujours dans la liste des parties. De plus, l'Acte prévoit plus précisément un mécanisme permettant de convoquer la Conférence internationale de nouveau sans que les États-Unis et le Vietnam le demandent conjointement; par conséquent, il lie donc toujours les huit autres pays signataires.
J'estime que l'Acte demeure un mécanisme utile pour la résolution des conflits entre les parties signataires découlant de violations de ses modalités, plus particulièrement de l'obligation de protéger les « […] droits fondamentaux du peuple vietnamien, à savoir l'indépendance, la souveraineté, l'unité et l'intégrité territoriale du Viet-Nam, ainsi que le droit de la population sud-vietnamienne à l'autodétermination » (articles 4 et 5 de l'Acte) et pour assurer la résolution pacifique et diplomatique du conflit en mer de Chine méridionale en général. Le Canada a toujours défendu la liberté, la démocratie, les droits de la personne et la primauté du droit – des valeurs sur lesquelles notre grand pays a été fondé et qui sont au cœur de notre sécurité et de notre prospérité. En tant que signataire de l'Acte et une nation qui a été à l'avant-plan des efforts de maintien de la paix au Vietnam et dans le monde, le Canada a donc une obligation morale et un intérêt direct à continuer de préserver et de promouvoir l'ordre international fondé sur la règle de droit en chapeautant cette initiative importante.
Pour obtenir de plus amples renseignements :
Bureau de l'honorable Thanh Hai Ngo
613-943-1599/ ThanhHai.Ngo@sen.parl.gc.ca
www.senatorngo.ca
@SenatorNgo
Renseignements additionnels :
Discours du sénateur Ngo sur sa motion pour convoquer de nouveau la Conférence internationale sur le Vietnam
Département d'État des États-Unis « Treaties in Force: A List of Treaties and Other International Agreements of the United States in Force on January 1, 2020 » (en anglais seulement)
Gouvernement du Canada, Opération GALLANT