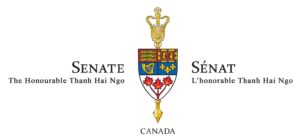 [For immediate release]
February 1st, 2019
Today, Senator Thanh Hai Ngo issued the following statement about the results of Vietnam's recent Universal Periodic Review (UPR):
"Canada failed to present comprehensive recommendations during Vietnam's Universal Periodic Review in Geneva on January 22, 2019.
"Unfortunately, only half of Canada's six recommendations adequately address the most severely restricted basic rights in Vietnam, namely the Cybersecurity Law, due process and religious freedom.
"This missed opportunity clearly shows that the Canadian government is ignoring the Vietnamese Communist Party's intensified crackdown on the freedom of expression, association, and peaceful public assembly.
"Canada must take a much firmer human rights approach with Vietnam by calling for the protection of a free press, an independent judiciary, and by strongly advocating for the release including the better treatment of more than 100 known jailed democracy activists such as Tran Huynh Duy Thuc, Nguyen Dinh Thanh, Bui Hieu Vo, Tran Hoang Phuc, Vu Quang Thuan, Nguyen Van Dien, Nguyen Viet Dung, and Vuong Van Tha."
For more information, please contact:
Office of the Honourable Senator Thanh Hai Ngo
613-943-1599
Additional information:
– 2018-2019 Human Rights Report – Situation in Vietnam
– Senator Ngo calls on Greater Respect for Human Rights in wake of Vietnam's UPR
Le sénateur Ngo sur les résultats de l'examen périodique universel du Vietnam
[Pour diffusion immédiate]
Le 1er février 2019
Le sénateur Thanh Hai Ngo a fait aujourd'hui la déclaration suivante au sujet des récents résultats de l'examen périodique universel du Vietnam :
« Les recommandations que le Canada a formulées dans le cadre de l'examen périodique universel du Vietnam, qui a eu lieu à Genève le 22 janvier 2019, sont insuffisantes.
« Malheureusement, la moitié à peine des six recommandations du Canada abordent les questions qui font l'objet des plus sévères restrictions au Vietnam en matière de droits fondamentaux, c'est-à-dire la loi sur la cybersécurité, l'application régulière de la loi et la liberté de religion.
« Cette occasion ratée prouve que le gouvernement du Canada fait peu de cas de l'intensification des mesures de répression du Parti communiste vietnamien contre la liberté d'expression, la liberté d'association et les rassemblements publics pacifiques.
« Le Canada doit adopter une attitude beaucoup plus ferme envers le Vietnam en réclamant la protection de la liberté de presse, une magistrature indépendante ainsi qu'un meilleur traitement et la libération des nombreux militants pour la démocratie – il y en plus d'une centaine – qui ont été emprisonnés, dont Tran Huynh Duy Thuc, Nguyen Dinh Thanh, Bui Hieu Vo, Tran Hoang Phuc, Vu Quang Thuan, Nguyen Van Dien, Nguyen Viet Dung et Vuong Van Tha. »
Pour de plus amples renseignements, veuillez communiquer avec :
Bureau de l'honorable sénateur Thanh Hai Ngo
613-943-1599
Renseignements supplémentaires :
– Rapport sur les droits de la personne – La situation au Vietnam
– Le sénateur Ngo réclame un plus grand respect des droits de la personne dans le contexte de l'examen périodique universel du Vietnam